Nevada public records provide everyone with the right to examine, obtain, detect, and preview public records, allowing the residents to know their state or local authority's actions and the behavior of the people within the state.
And performing a free records search in Nevada is both simple and easy and anyone can find public information on anyone else in the state using a free search tool, or by using the state's resources.
Knowing where and how to search Nevada public records is half the battle.
This guide provides all the information needed to search public repositories and find free public records in Nevada.
What Laws Govern Nevada Public Record
According to the Nevada Public Records Act (Ch. 239 of the Nev Revised Statutes), all public records of any state government institution that have not been legally deemed confidential should be made accessible to the general public upon request.
The legislation makes no restrictions on who may seek to inspect public information. Any exemption or exception to the public state records law should be interpreted carefully.1
Individuals may use several methods to look up Nevada public records. Some attract fees, while others do not. The paid platforms are reliable and always give extensive and accurate public information. While free versions offer an alternative, they are not reliable or accurate.
To obtain Nevada public records, searchers need to know the jurisdiction and which body or entity they should approach, such as jails, prisons, police departments, courts, etc.
Nevada Criminal Records: An Overview
Criminal records, sometimes termed rap sheets, are official papers that contain all criminal history information and crime-related records for individuals in the state.
Nevada criminal records are compiled from a variety of sources, including state, county, and local repositories, appeal and trial courts, and state and county correctional institutions.
Police records and other information gathered from a person's encounters with the criminal justice system are handled by the Records, Communications, and Compliance Division (RCCD) of the Department of Public Safety, Nevada State Police. The information provided in a Nevada public criminal record varies according to the individual.
Nevada criminal records can also be obtained from sex offenders' registries, sheriff's offices, court records, or other police departments' websites.
Individuals and institutions can use criminal records to avoid hiring someone implicated in crimes such as theft, fraud, robbery, and misappropriation. They also reduce the likelihood of engaging someone with an aggressive or threatening history and be aware of any criminal charges if they have been charged with a crime.
Are Criminal Records Open to the Public in Nevada?
Requesters may receive a copy of the criminal records under Nevada state law, Ch. 179A. If a request is received from someone other than the subject, the Criminal History Repository's distribution is governed by Nevada Revised Statutes as well as Federal laws.
The information presented will be based on the individual's fingerprints taken at the moment of arrest and arrest dispositions as of 1987. A request to the arresting agency would be required to get a past criminal record prior to 1987.
Nevada criminal records are usually in the form of criminal background reports through these depositories. Interested citizens may apply by mail or in person for Nevada criminal documents or lack of the same.
As mentioned earlier, citizens can also access public criminal records by contacting police agencies, court clerks, sheriff's offices, or offender registries in person or by mail. The process and cost depend entirely on each of these government entities.
Additionally, various third-party aggregate websites make available Nevada criminal records, which are considered public in the U.S. Third-party website searches are frequently more accessible because the data is not limited to regional record availability. Third-party website information might be a starting point for parties who want to look up someone's criminal record or other records.
How Can I See if Someone Has a Criminal Record in NV?
Public criminal records in Nevada are made publicly available through the Central Repository for Nevada Records of Criminal History. Individuals who wish to ask for criminal documents or receive notification of their lack of criminal history can do so in two ways:
By Mail
A user may obtain from the Nevada Criminal History Repository a criminal history document or notification of no criminal history by providing the required details. Individuals must send the package to the address below.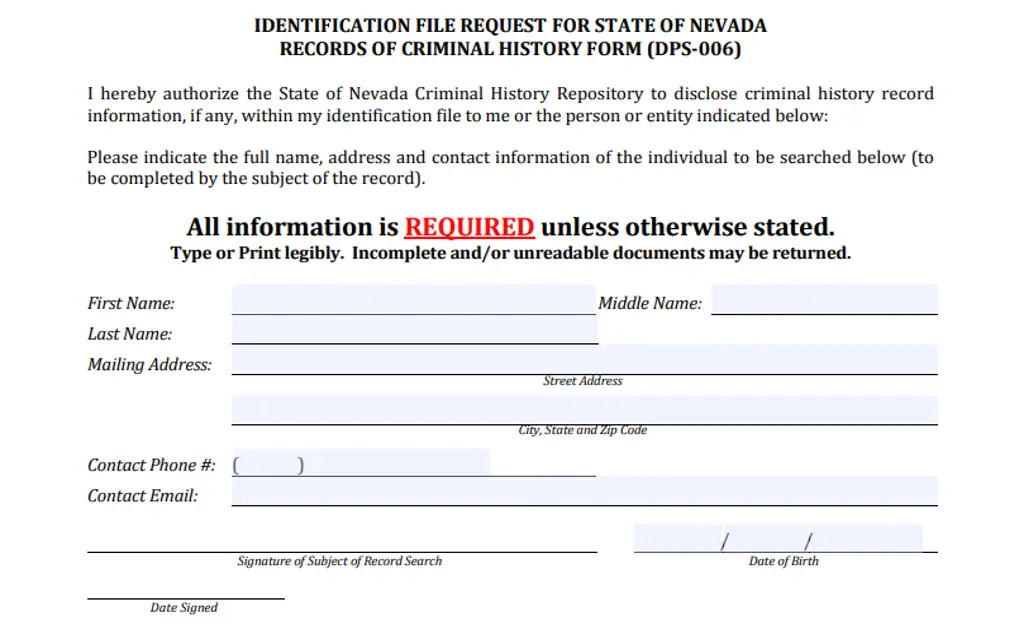 Department of Public Safety – Records, Communications, & Compliance Division
333-West Nye Ln., Ste 100
Carson City, NV 89706
Phone No: 775-684-6262
The requester gets feedback within 30 days and another two weeks for mail delivery.
In-person
Requesters must fill in the DPS-006 form, provide fingerprints, pay with a money order or a valid cashier's check, and submit the package personally at the address below.
Department of Public Safety
Records, Communications, and Compliance Division
333-West Nye Ln., Suite 10
The general public can also conduct a criminal record check at their local sheriff's offices, clerks of court, or police departments. However, such records will be exclusive to that agency.2
For more information on these other avenues, our Nevada criminal and arrest records resource provides a list of every criminal record custodian (agencies that host and distribute records) as well as recent arrest logs for every county.
As an additional reference, citizens can check out our resource on searching free public records in Clark County, Nevada to see examples of how to access criminal history reports, arrests, probationer information, background checks, warrants, and more through county record custodians.
Where Can I See Mugshots for Arrests in Nevada?
Mugshot records are also available through the Nevada public records search. Public arrest data can be accessed from the individual of interest's arresting agency or the custodian of search records.
To get the mugshots, searchers must contact the law enforcement agency that arrested the subject. In Nevada, these records can be accessed through sheriff's offices, clerks of courts, police departments, state police departments, or federal police agencies.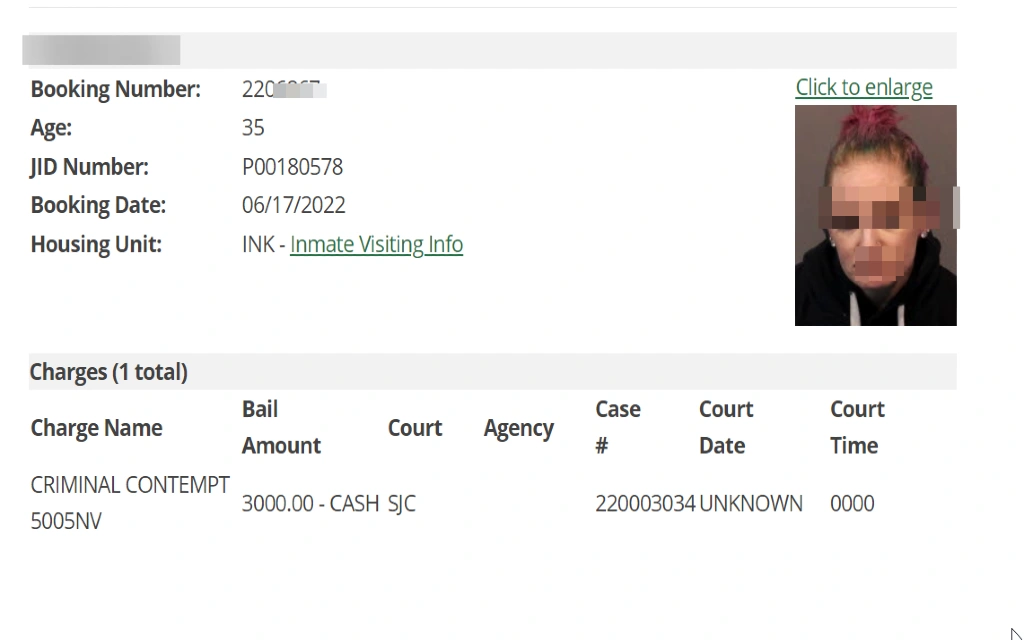 Each entity has its own different ways the public can access arrest records, including mugshots. For example, the Washoe County Sheriff's Department has a search tool that provides arrested persons' details.17 The department also updates arrest news on its official site.3
At the state level, individuals may look up mugshots and other arrest records by contacting the DPS, Nevada State Police.
Nevada Juvenile Record Laws
Juveniles in Nevada are not deemed tried and convicted in the same way that adults are, but rather are prosecuted in a juvenile criminal court and adjudicated as delinquent.
When a person reaches the legal adult age, their criminal records are frequently sealed court records or expunged. Unless the individual petitions to have the file expunged, the record stays in the justice system.
Juvenile records in Nevada are not publicly available. They may be released only in compliance with the juvenile records state law (Nevada Rev Stat 62H.025) or as specifically approved by any other state or federal law.
The following individuals can access juvenile records upon request:
The subject, if he is above 18 years
The youth's legal guardian or parents
A juvenile services director
Youth's Parole Bureau's Chief
District attorney
The attorney who represents the youth
The director or their representative of a government department that conducts juvenile justice.
A director of a local, regional, or state detention facility for juveniles.
Director of a child welfare agency
The period to apply and obtain the records depends on the state or other agencies handling the minor.4
Do I Have a Warrant in Nevada? Free Nevada Warrant Search
In Nevada, no central repository for outstanding warrants is available. As a result, calling a local police department office is the quickest option to discover outstanding warrants. It is as simple as visiting a local police department and inquiring if a specific person is wanted on a warrant. The disadvantage is that if a warrant is issued in the requester's name, the individual may be arrested or detained immediately.
Local law enforcement departments in some of Nevada's cities have internet resources and warrant lookup portals where anyone can check for warrants by simply providing names and personal data.
For example, the Las Vegas warrant lookup webpage has details of active warrants of arrest.
In addition, local courts can offer information about outstanding warrants. Requests concerning an individual's warrant status can be made by visiting or contacting Nevada courts. Anyone who decides to appear in court ought to know that photo identification is required in a warrant search.
Background checks can also be used to find outstanding warrants in Nevada. Some third-party databases make it easier for searchers to locate active warrants.5
The Nevada Sex Offender Registry (How-To Check Your Neighborhood)
The Nevada DPS handles the state's sex offender records in its registry. The law (NRS179B Sec 250) requires the department to create and operate a website to disseminate information about sex offenders in Nevada.
The database does not include everyone sentenced to a sex offense. It only lists offenders who have met the registration criteria. It also includes perpetrators from tiers 3, 2, and 1 whose victims were minors at the time of the crime.
The Nevada SOR is open to the public. Interested individuals can search by vehicle, name, or location. Location searches can be done using either a zip code or an address. The user can search up to three miles away from the location or zip code. Vehicle checks may be conducted using the license plate.6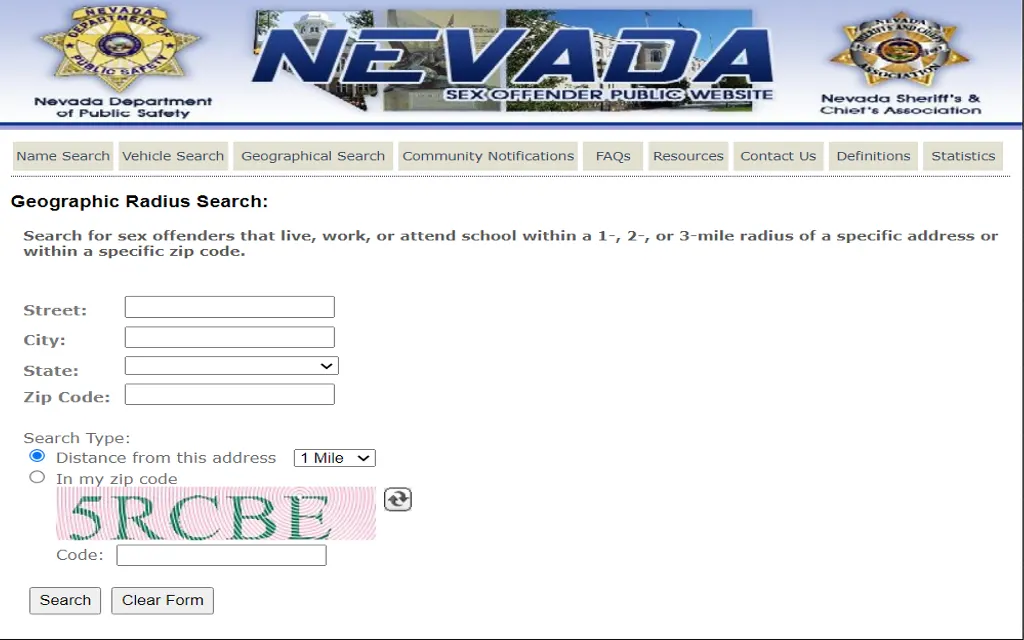 Concerned citizens can also sign up for email alerts when an offender relocates into the community. The user can opt to be informed when the sex offender's address is within 1, 2, or 3 miles of them.
To search for a sex offender in Nevada, one needs to go to the Nevada sex offender's official search website. They must agree with the terms and conditions, enter the security code, and fill in the preferred according to their location, names, or vehicle license plate number.
RCCD has also listed other ways to obtain sex offenders' information as follows:
How Do Nevada Background Checks Work?
When a licensing agency, employer, landlord, or other entity conducts a Nevada background check, they look into an applicant's consumer and criminal past. However, any individual may obtain a copy of their own criminal history record in Nevada.
Criminal history in Nevada is stored and managed at the Central Repository for NV Records of Criminal History, a branch of DPS's RCCD, Records Bureau.
To conduct a background check in Nevada, requesters must fill in the request form, attach fingerprints, make payment ($27) through a certified check or money order, and send those documents to:
Department of Public Safety – Records, Communications, & Compliance Division
333-West Nye Ln., Ste 100
Carson City, NV 89706
Alternatively, searchers can present those documents in person at 333-West Nye Ln., Suite 100.
Additionally, searchers may conduct a "background check" or find other records on someone through local or county police departments, jails, and prisons, bankruptcy reports, courts of law, DMV, offenders' registries, or juvenile justice divisions.
The Nevada background check report may provide the following details:
Date of birth
Fingerprints
Property records
Bankruptcy records
Addresses
The social security number
Civil court proceedings report
Criminal charges
Mugshots
Credit history
Driving registration records
Felonies
Driver's license number
Vital records
Sex offender status
Arrest records
Current and past warrants
Incarcerations
A criminal background search in Nevada may take up to 30 days, but depending on the resources used or the agency handling the process, it can be completed sooner. Additionally, third party websites can provide background checks for individual uses such as looking up a potential date, verifying a tutors skills and credentials, or seeing if your neighbor has a record. Although these personal background checks can not be used to stalk, harass or intimated others and should never be used for professional purposes since all professional background checks must abide by local and federal laws such as the FCRA, EEOC, Ban-the-Box etc.
A Look at Nevada Court Records
The NV. Open Records Law is a collection of state statutes that ensure public access to the state's public documents.
According to the Act, the public has the constitutional right to access information and copy Nevada public records from across all public entities in the state. In Nevada, court documents are deemed public records in the state and, thus, can be accessed and copied by the public.8
Nevada court records contain the following:
Court minutes
Witness documentation
Dockets
Case files
Judgment documentation
Orders of the court
The Nevada judiciary consists of the following courts and the cases they handle:
The Nevada Appellate Courts
The appellate courts consist of the supreme and appeal courts.
1. The Supreme Court of Nevada
This is the highest court, with the primary task of reviewing and ruling on appeals from the court of appeals and district court cases. The supreme court doesn't hold fact-finding hearings; the justice panel examines if any legal errors occurred throughout the case. They also receive equal funding from the state's general revenue and administrative assessments. It consists of seven justices.
2. Nevada Court of Appeals
In a deflective paradigm, where the supreme court distributes matters to the three-judge panel, the Nevada court of appeals is allocated to hear around one-third of all cases brought to the Nevada supreme court. Examples of cases under the Nevada court of appeals include criminal case appeals, civil lawsuits, writ, probate hearings under $5,430,000, etc.
The Nevada Trial Courts
The trial courts consist of the district, justice, and municipal courts.
1. The Nevada District Courts
These courts enjoy broad jurisdiction across all legal matters. This is where civil, juvenile, family, and criminal cases are decided through mediation, jury or bench trials, and arbitration. In addition, the judges handle appeals from municipal and justice court lawsuits.
2. The Nevada Justice Courts
They hear misdemeanor criminal cases, traffic offenses, evictions, minor claims disputes, and other civil cases of less than $15,000.  Justices of the peace courts also rule over gross misdemeanor and felony arraignments, as well as preliminary hearings to decide if there is enough evidence to hold offenders for trial in the high courts.
Nevada Municipal Courts: These courts handle matters involving traffic and criminal ordinance infractions that occur inside the city boundaries of established municipalities.9
How to Find Court Records in NV (Nevada)
Requesters can acquire court records by contacting the secretaries (clerks) of the courts that handle their cases. Court records requests can be made through an online portal, in person, by email, or by letter.
A requester who wants to obtain court records in person can do so at the Court Clerk's Office, which has the records. Processes for acquiring court records may differ from one court to the next or even from one county to the next.
To get court records in the trial courts, individuals need to check how each operates on their official website. They can click on the links for each court to view their websites, addresses, and processes—municipal courts, justice courts, and district courts.
Interested parties can use the search case link to view appellate court records in Nevada. The system needs individuals to enter the case number and an alternative case caption. The portal is easy to use, so individuals may complete the search by following the prompts. It should be noted that accessing the case records via the internet portal is free.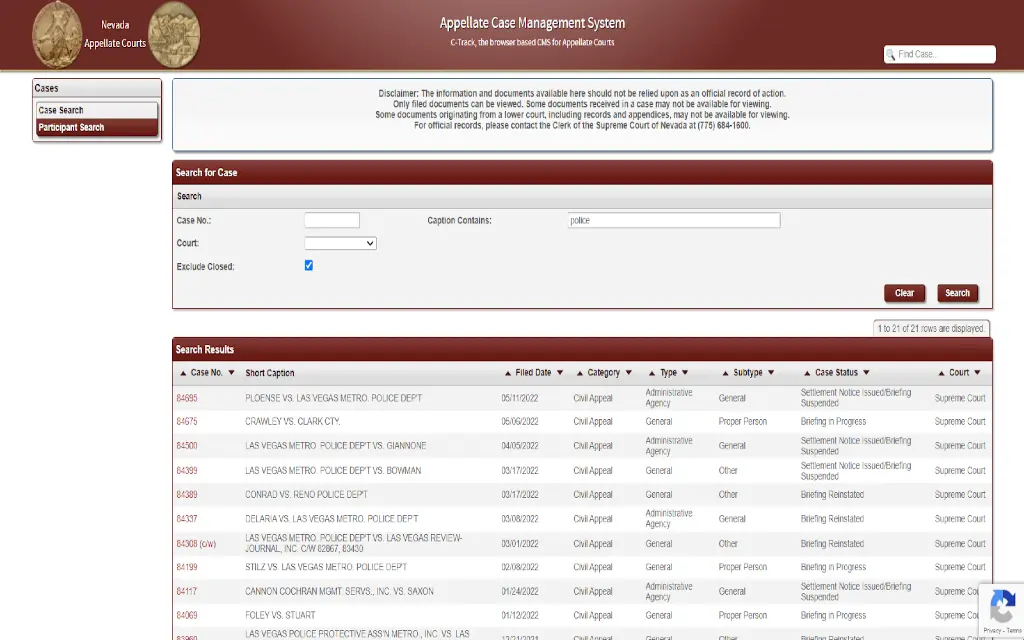 Requesters can also contact the clerk of appellate courts for information on how to get court documents offline. Carson City is home to the NV Supreme Court and the NV Court of Appeals. There is also a courthouse in Las Vegas. The following are the addresses and phone numbers for both courtrooms:
Las Vegas
408-East Clark Av.
Las Vegas, Nevada-89101
702-486-9300
Carson City
201 S. Carson St.
Suite-201, Carson City, NV-89701-4780
775-684-1600
Check Nevada Bankruptcy Records
Individuals may use the following resources to obtain Nevada bankruptcy records:
Voice Case Information Systems- VCIS provides access to basic bankruptcy case information to anybody with a free touch-tone telephone for records dated 1996. Users are required to call +1-866-222-8029, choose Nevada and follow the instructions.10
PACER- The PACER system makes bankruptcy case information more widely available to the public. PACER allows citizens to view court papers electronically. Those interested in using the service must first register. It should be noted that there may be expenses associated with acquiring PACER records.
Courthouse- Requesters can access the courthouses Monday to Friday from 9 a.m. to 4 p.m. at the following addresses:
U.S Bankruptcy CT- District of NV
300 Booth St.
Reno, Nevada 89509
U.S Bankruptcy CT- District of NV
300-Las Vegas Blvd. S.
Las Vegas, Nevada 89101
Nevada Inmate Records – Jail & Prison
Nevada inmate records are handled by the Nevada DOC or local police departments. State prisons and correctional centers are under the DOC, county jails are under the county sheriff's office, and city jails are under the city police departments.
Detention centers and jails in counties, as well as state correctional facilities and prisons, are common examples of these facilities.11
Inmate records are part of the Nevada public records and contain the following details:
Names and aliases
Location
Date of birth
Sentencing
Height and weight
Department of Corrections ID
Booking photo/mugshot
In the U.S, inmate records are deemed public and are therefore made available by traditional governmental authorities as well as third-party websites and entities. Individuals can do a prison background check using appropriate organizations.
Where Can I Find Out if Someone Was Arrested or in Jail?
Searchers can locate or find recent arrests, inmate release dates, information on how to visit an inmate, and even information on how to send money to inmates through online and offline means.
Each county or city has its own method of getting inmate information or obtaining jail documents, and visitors must go to their official websites to do so. Generally, searchers should search the web for their "county + recent arrests" to find information on those detained in the past few days or weeks.
For example, the Washoe sheriff's department has an online search portal where searchers can look up if someone was arrested in that particular county.
The same can be done for non-county jails such as the las vegas detention center, but instead, searchers should search the internet for "city name + recent arrests" in order to find the appropriate site.
If those methods don't turn up any results, calling the local sheriff's office, police department, jail, or checking VineLink is the next best route to finding someone in jail.
How to Check Federal & State Prison for Inmates
At the state level, the majority of publicly available inmate records may be found using the DOC site's inmate search portal.20
People seeking more specific information about a person's location, classification, and status should contact the facility where the prisoner is confined, using the contact information and addresses listed on their website.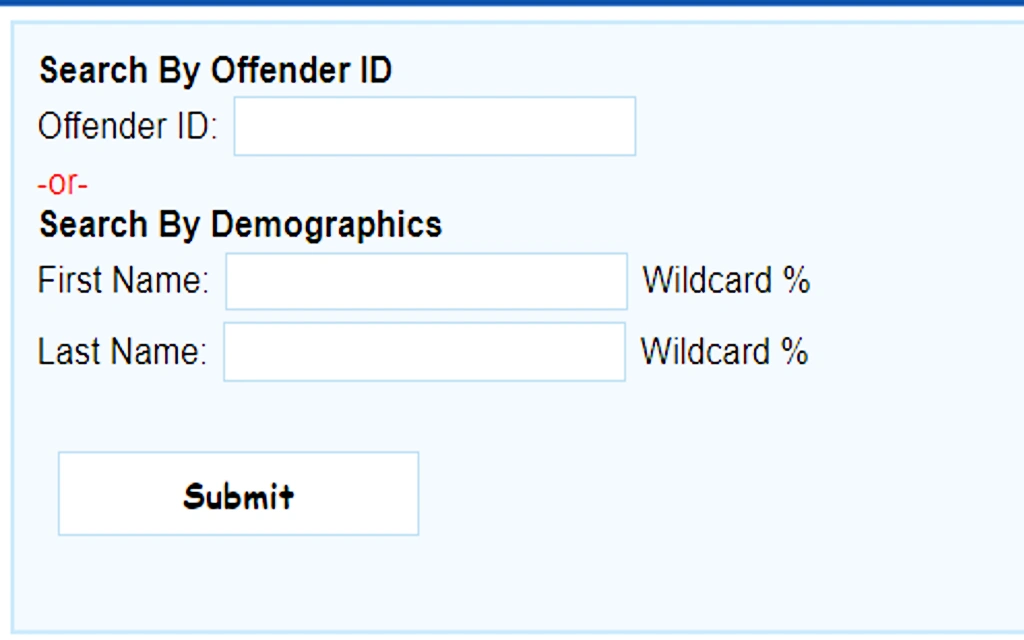 If the inmate's location is unknown and whether or not an individual is imprisoned, one may approach the Family and Community Services staff using the contact details below.12
At the federal prison level, one may check public records for federal prison inmates using the BOP search tool.
Nevada Vital Records Information (Search Free Marriage Records in Nevada)
In Nevada, vital records include public divorce records, marriage certificates, birth certificates, and death certificates, which are under the custody of the Department of Health and Human Services Nevada Division of Public and Behavioral Health, Office of the Vital Records.
This office is the official keeper of Nevada death and birth records filed since July 1, 1911. Before  1911, records were customarily kept in the recorder's office in which the event took place.
Who Can See Marriage & Divorce Records in Nevada? (Find Free Nevada Divorce Records)
Marriage and divorce records are assumed to be Nevada public records. Therefore, they are obtainable to members of the general public.
The divorced percentage of people in every Nevada county is also made available through the United States Census Bureau.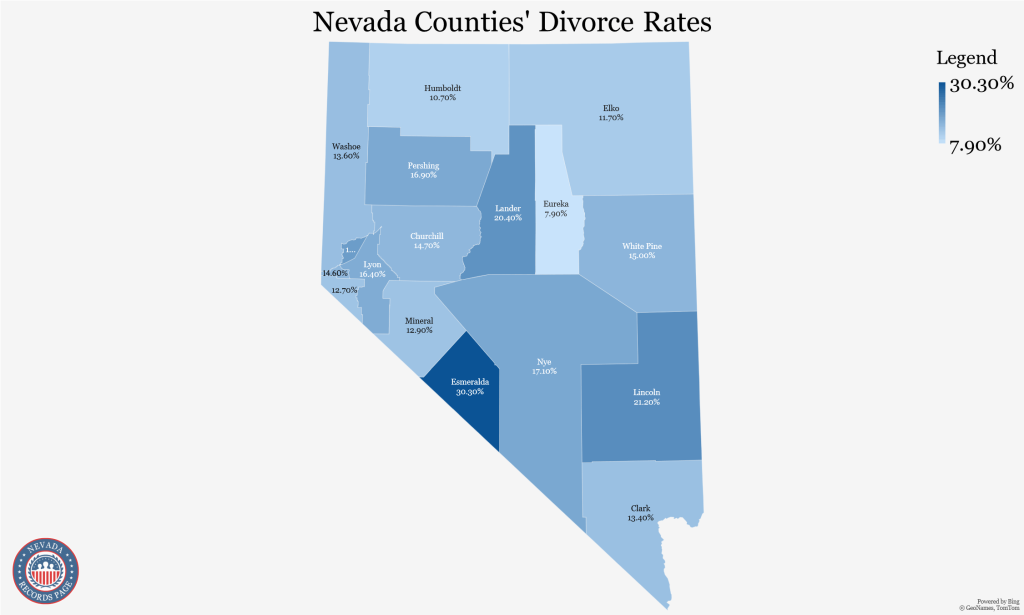 The Marriage Bureau divisions of the county recorder and clerk offices release these records. Are marriage records public? Yes! If one wants to find out if someone is married, they can do so without prior permission from the subject.
Can Anyone See Death & Birth Certificates in Nevada?
In Nevada, death and birth records are private and may only be disclosed to a qualified individual. In general, a qualifying individual is a registrant or an immediate member of the family by birth or marriage, their guardian, or a legal representative.13
Obtain Copies of Certificates Through the NV Office of Vital Records
The quickest way to receive a death or birth record in Nevada is to order at Vitalchek or by phone at 877-456-5410.14
Nevada counties keep divorce and marriage records as well. Requesters should apply through the local county recorder's office where the permit was acquired for certified copy marriage certificates.
Individuals are required to apply through the clerk of the county in which the divorce was issued for divorce records.
However, If requesters submit a request with the complete name of the individual whose record they are looking for, the estimated dates of the event, as well as the city or county in which they believe the event took place, the Office of Vital Records may help search for it.
Searchers must fill in the request form and pay a verification fee of $10.00 per name searched.15
1Nevada Public Record Law Update. (2019, March 20). State Bar of Nevada. Retrieved June 27, 2022, from <https://www.nvbar.org/wp-content/uploads/Public-Record-Law-Presentation-2019.pdf>
2Criminal-FAQs. (n.d.). RCCD Nevada. Retrieved June 27, 2022, from <https://rccd.nv.gov/FeesForms/Criminal/Criminal-FAQs/>
3Washoe County Sheriff's Office Detectives arrest Reno man on multiple charges of sex crimes with a juvenile. (2022, June 13). Washoe County Sheriff's Office. Retrieved June 27, 2022, from <https://www.washoesheriff.com/outreach/press_releases/2022-85-Washoe-County-Sheriffs-Office-Detectives-arrest-Reno-man-on-multiple-charges-of-sex-crimes-with-a-juvenile.php>
4NRS: CHAPTER 62H – RECORDS RELATED TO CHILDREN. (n.d.). Nevada Legislature. Retrieved June 27, 2022, from <https://www.leg.state.nv.us/nrs/NRS-062H.html>
5(n.d.). NRS: CHAPTER 173 – INDICTMENT AND INFORMATION. Retrieved June 27, 2022, from <https://www.leg.state.nv.us/nrs/NRS-173.html>
6(n.d.). NRS: CHAPTER 179D – REGISTRATION OF SEX OFFENDERS AND OFFENDERS CONVICTED OF A CRIME AGAINST A CHILD. Retrieved June 27, 2022, from <https://www.leg.state.nv.us/nrs/nrs-179d.html#NRS179DSec113>
7Sex-Offender-Community-Notification. (n.d.). RCCD Nevada. Retrieved June 27, 2022, from <https://rccd.nv.gov/About/Sex-Offender-Community-Notification/>
8NRS: CHAPTER 239 – PUBLIC RECORDS. (n.d.). Nevada Legislature. Retrieved June 27, 2022, from <https://www.leg.state.nv.us/nrs/nrs-239.html>
9(n.d.). Nevada's Judiciary: Court Structure. Retrieved June 27, 2022, from <https://www.leg.state.nv.us/Division/Research/Documents/NevadaCourtStructure.pdf>
10Access Case Information using the Voice Case Information System (VCIS) | US Bankruptcy Court, District of Nevada. (n.d.). Nevada Bankruptcy Court. Retrieved June 27, 2022, from <https://www.nvb.uscourts.gov/case-info/voice-case-information-system-vcis/>
11Inmates | Nevada Department of Corrections. (n.d.). Nevada Department of Corrections. Retrieved June 27, 2022, from <https://doc.nv.gov/Inmates/Home/>
12Inmate Records and Information | Nevada Department of Corrections. (n.d.). Nevada Department of Corrections. Retrieved June 27, 2022, from <https://doc.nv.gov/Inmates/Records_and_Information/Home/>
13VitalRecords. (2021, July 27). Nevada Division of Public and Behavioral Health. Retrieved June 27, 2022, from <https://dpbh.nv.gov/Programs/VitalRecords/>
14Birth and Death Vital Records – Home. (n.d.). Nevada Division of Public and Behavioral Health. Retrieved June 27, 2022, from <https://dpbh.nv.gov/Programs/BirthDeath/Birth_and_Death_Vital_Records_-_Home/>
15Birth and Death Vital Records – Home. (n.d.). Nevada Division of Public and Behavioral Health. Retrieved June 27, 2022, from <https://dpbh.nv.gov/Programs/BirthDeath/Birth_and_Death_Vital_Records_-_Home/>
16State of Nevada, Department of Public Safety. (2021, October). To Obtain a Copy of Nevada Criminal History Records (DPS-006). Retrieved June 2, 2023, from <https://rccd.nv.gov/uploadedFiles/gsdnvgov/content/Home/Features/DPS-006__Request%20for%20Nevada%20Criminal%20History__0000RCCD-006-102021rev(16%20Mar%2023).pdf>
17Washoe County Sheriff's Office. (2023). Inmate Search. Retrieved June 2, 2023, from <https://www.washoesheriff.com/inmate-search.php>
18Nevada Department of Public Safety. (2023). Nevada Sex Offender Registry Website. Geographic Radius Search. Retrieved June 2, 2023, from <https://sexoffenders.nv.gov/GeographicalSearch.aspx>
19Nevada Appellate Courts. (2023). Appellate Case Management System. Participant Search. Retrieved June 2, 2023, from <https://caseinfo.nvsupremecourt.us/public/caseSearch.do>
20Nevada Department of Corrections. (2023). Inmate Search. Retrieved June 2, 2023, from <https://ofdsearch.doc.nv.gov/>