Run a free criminal and arrest records search to find recent arrests in every Nevada county, felonies, misdemeanors, warrants, probation and parole information, prison records, sex offenders, background checks reports and more.
Nevada arrest records, criminal records, and public records can be found through official agencies on the state, county and municipal level and this guide shows individual's exactly where to look, and how to get ahold of them.
Are Criminal Records & Arrest Records Available to the Public in Nevada?
According to the Nevada Public Records Act, members of the public are to have access to Nevada criminal records and other public information, including arrest and criminal records.1
However, certain reports are only held by specific record custodians; for example, in the state of Nevada, the process for obtaining an arrest record is not the same as for finding a criminal record. Searchers should also be aware that juvenile records are not open to the public, nor are adult records that have been sealed, expunged, or which are still pending.
In addition to criminal and arrest records, citizens can find more publicly available information through our Nevada public records guide.
Information Shown on Arrest Records & Criminal Records in Nevada
Not only are different reports obtained via separate processes, but Nevada arrest records also show different information than criminal records; arrest records give details of a specific incident of detainment, while criminal records cover an individual's entire criminal history including prior arrests and convictions.
Therefore, criminal records are much more comprehensive as they detail a much broader scope as opposed to one particular arrest.
In Nevada, arrest records usually show the following information:
Booking Date
Custody Details
Date of Birth
Gender
Holding Facility
Main Address
Mugshot
Physical Description
Race/Ethnicity
Reporting Agency
Subject's Full Name
Criminal records in the state of Nevada often include:
Aliases
Current Correctional Facility
Current & Previous Addresses
Date of Birth
Date & Details of Offense
Fingerprints
Gender
Identifying Tattoos & Scars
Mugshot
Outstanding Warrants
Past Convictions
Physical Description
Prior Arrests
Race/Ethnicity
Subject's Full Name
How To Determine Who's in Jail & the Reason Why for Free: How To Search Nevada Arrest Records
Individuals wondering how to find recent arrests in Nevada should know the subject's name, as well as an approximation of where and when they were arrested. The more information available, the more quickly concerned friends and family members can narrow down their search.
The steps below will explain how to find out if someone was arrested and how to find out someone's charges in jail anywhere in the state of Nevada, whether the subject is in a city or county jail.
Search County Arrest Records in Nevada via the Local County Sheriff's Office
To find out if someone is in jail in a certain city or county can be conducted through contacting the local law enforcement agency where the arrest was made.
Nevada arrest records can be accessed by contacting the county sheriff's department by phone or in person; while all county sheriff offices have their own website, most even have a tab or link for how to find recent arrests, often accompanied by a mugshot database.
Smaller counties may not have the search feature, in which case the sheriff may be contacted at the relevant phone number listed below to ask about any inmate's arrest report.
County sheriff department websites that do not offer county inmate search tools of daily arrests can be found below, with their contact page linked and the phone number to the applicable sheriff department.
Find Inmate Rosters & Arrests Through Nevada Police Departments & City Jails
Concerned parties seeking information on a certain subject can contact city jails, if known, as this will drastically narrow down the search from the county level. However, county jail searches are generally more broad although they might have a delay in reporting the arrest if a city police department made the arrest.
Individuals can call the city police department or the city jail directly to inquire about current arrests. Since there are only a few major cities with city jails in Nevada, they have been included in the table below with links to each jail's inmate search tool or contact page.
For example, the City of Las Vegas Detention Center (the city jail in Vegas) has an average daily inmate population of over 400 and the facility offers an inmate search tool that provides information specifically about who's in jail in the Las Vegas Detention Center on misdemeanor charges.2, 3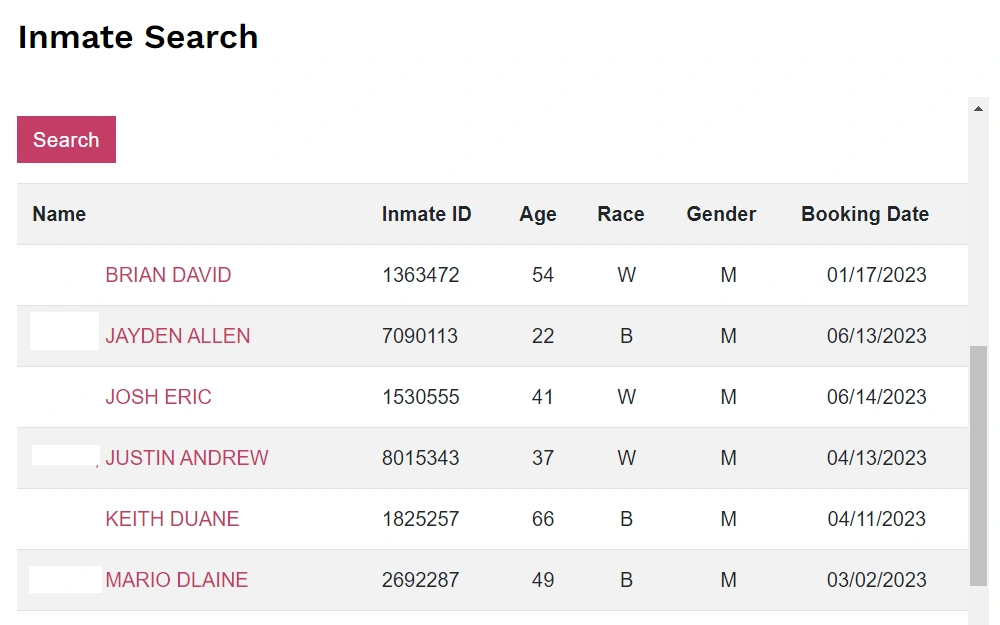 Clark County also reports this information although there may be a delay due to the booking process. A more thorough overview of how to look up local inmates and arrests can be found in our resource on locating all public records in Clark County for free.
Concerned friends or family who have trouble navigating the arrest report lookup process or cannot reach anyone may opt to contact a licensed bail bondsman for assistance, as they are very familiar with the system and can help navigate the search process as well as posting bail if needed.
How To Contact an Inmate in Jail & Bail Them Out (NV)
To reach out to an inmate in a city or county jail in Nevada, members of the public should contact the relevant jail to ask about their communication policies, as visiting and phone hours can vary between facilities.
Many jails require callers to create an account via Securus to pre-pay for audio and video calls with inmates.4 Otherwise, inmates can place collect calls to approved contacts. In person visitation and postal correspondence are usually allowed as well.
For example, inmates at the Las Vegas Detention Center can be contacted by letter (packages are prohibited) at the following address. The inmate's name and/or ID number must be included.
Inmate Name:
ID#:
Facility: City of Las Vegas Detention Center
Address: 3300 Stewart Ave.
City, State, Zip Code: Las Vegas, NV, 89101
Family members or others who want to post bail on behalf of an inmate should make payments to the jail directly. The local law enforcement agency or jail office can provide bail information if the amount is not disclosed online via the inmate search or booking log.
The full amount can be paid to the applicable jail or payees can ask a bail bondsman to assist them (usually for a fee set at 10% of bail).
How To Run a Nevada Criminal Records Search
Nevada criminal records are usually hosted by the county courts or other state agencies; searchers may also turn to a county's clerk or courts or even background check services to gain insight into an offender's record or "rap sheet" if all else fails.
Criminal records can be obtained in person or requested online in the state of Nevada.
Visit or Contact the County's Clerk of Court to Find Criminal Records in the State of Nevada
Most criminal records can be requested by county, but in Nevada, there are 16 counties and one "independent city" that operates similarly to a county–namely, Carson City. In Nevada, criminal records can be requested through any of the 17 relevant clerks of court.
Requesters should first check if the county court publishes records online by accessing the links below; if not, they can visit or contact the court in the jurisdiction where the crime occurred. Each county's clerk of court may be visited or contacted by phone to obtain records, and Clark County also has a court case records search tool that offers searchers the convenience of viewing records online.
County Court Criminal Record Search
County Courthouse Address
Phone Number
Carson City Clerk of Court
885 East Musser Street 3rd Floor
Carson City, Nevada 89701
775-887-2082
Churchill County Clerk of Court
73 N. Maine Street Suite B
Fallon, NV 89406
775-423-6028
Clark County Court Records Search
200 Lewis Avenue 3rd Floor
Las Vegas, Nevada 89101
702-455-2590
Douglas County Clerk of Court
1038 Buckeye Road
Minden, NV 89423
775-782-9820
Elko County Clerk of Court
571 Idaho Street Suite 2
Elko, NV 89801
775-753-4600
Esmeralda County Clerk of Court
233 Crook Avenue
Goldfield, NV 89013
775-485-6309
Eureka County Clerk of Court
10 S Main Street
Eureka, NV 89316
775-237-5263
Humboldt County Clerk of Court
25 W 5th Street
Winnemucca, NV 89445
775-623-6343
Lander County Clerk of Court
50 State Route 305
Battle Mountain, NV 89820
775-273-2410
ext. 1322
Lincoln County Clerk of Court
181 Main Street
Pioche, NV 89043
775-962-8000
Lyon County Clerk of Court
911 Harvey Way
Yerington, NV 89447
775-463-6503
Mineral County Clerk of Court
105 S. A Street
Hawthorne, NV 89415
775-273-2410
Nye County Clerk of Court
1520 E. Basin Ave. Suite #105
Pahrump, Nv. 89060
775-482-8191
Pershing County Clerk of Court
400 Main Street
Lovelock, NV 89419
775-273-2410
ext. 1322
Storey County Clerk of Court
26 S B Street
Virginia City, NV 89440
775-847-0969
Washoe County Inmate Search
75 Court Street
Reno, NV 89501
775-328-2003
White Pine County Clerk of Court
1786 Great Basin Blvd. Suite 3
Ely, Nevada 89301
775-293-6509
While some courts offer free access to these records, others do charge a nominal fee for copies. For instance, criminal record requesters in White Pine County must submit a written public record request form and are charged $0.50 per copied page.
How To Retrieve a Copy of Your Own Criminal Record Trough the Nevada State Police
Individuals may request their own criminal records via the Records, Communications & Compliance Division (RCCD) of the Nevada State Police.5 The RCCD–under the Department of Public Safety (DPS)–will provide records showing statewide criminal history information, but these reports will not include any information on crimes or convictions from other states or at the federal level.
Citizens curious about how to check if someone has a criminal record must use the clerk of court option as RCCD requesters will not be granted access to others' criminal records, but can obtain their own to verify that the information within is correct or to simply maintain their own copy.
Interested parties may request a copy of their criminal record (or confirmation that they do not have a record) through the RCCD by:
Fully and legibly completing the RCCD's Criminal History Request Form (DPS–006)6
Have fingerprints taken by an certified fingerprinting technician at any of Nevada's authorized Fingerprinting Sites.7
The technician must sign and date the official fingerprint card and the subject of the request must include their own signature, place and date of birth, sex, height, weight, race, hair type/color, and eye color. Note that separate fees are charged for fingerprinting and for the criminal record request.
Make out a money order or certified check to the Nevada Department of Public Safety for $27.00
Staple all items named above together neatly, place in an envelope, and mail to:
The Department of Public Safety
Records, Communications and Compliance Division
333 West Nye Lane #100
Carson City, Nevada 89706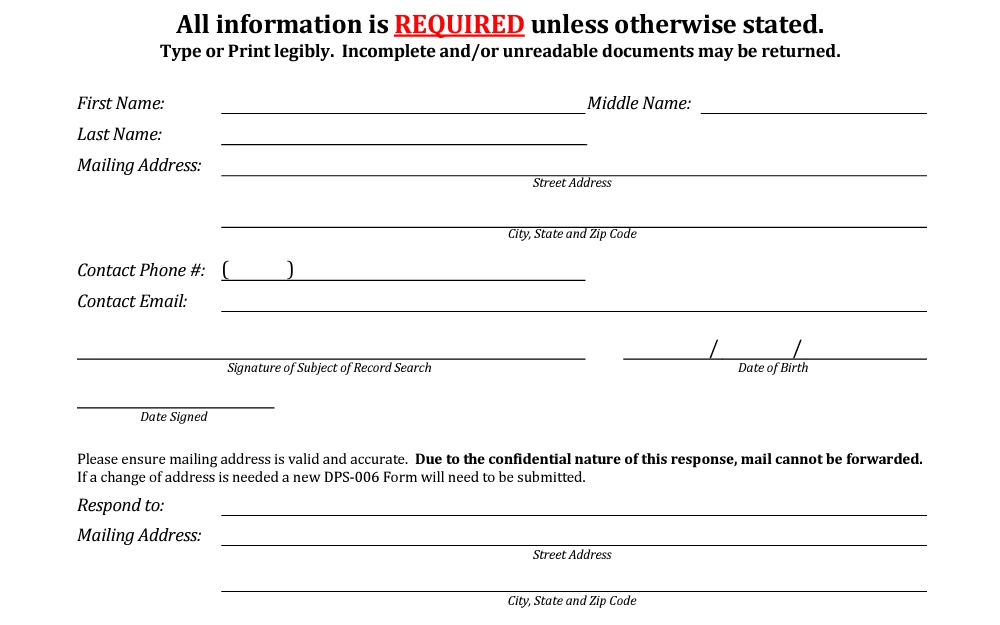 Responses might take up to 45 days for processing; when complete, requesters will either receive a) a State Negative Record Response which will disclose that no Nevada criminal record was found or b) a State Positive Record Response confirming that a record was found, accompanied by said record in full.
How To Retrieve a Copy of Your Own Criminal Record Report in Nevada
The most accurate and up to date options for obtaining a copy of criminal records are either through the county's clerk of courts (for oneself or others), through the Nevada State Police seen above, or through the state's public records repository–the RCCD of the Department of Public Safety (for oneself).
The clerk of courts can be found in the table above; these are court officials in charge of managing public records and can be sought for inquiries about criminal reports. Alternatively, copies of police reports can be obtained through local police departments or sheriff's offices (whichever was the originating agency).
Third party people finder sites can also provide assistance or direction to those seeking criminal records, and can save searchers a great deal of time checking with various agencies, courts, or repositories.
What Is the Best Way to Check If Someone Is on Probation or Parole in Nevada?
Probation and parole are similar in that they both describe the release of inmates from a correctional facility, but parole usually means release from prison but probation describes a release from jail.
The Nevada Parole Board is tasked with holding parole hearings; when post-release supervision is required, the Nevada State Police Division of Parole and Probation is responsible for carrying out these duties.8, 9
The Division of Parole and Probation contact information can be found below.
Nevada DPS Parole and Probation
1445 Old Hot Springs Road, Suite 104
Carson City, Nevada 89701
Phone: (775)684-2600
Fax: (775)684-2697
Although parole hearings fall under the duty of the Parole Board, the board does not decide whether an inmate is eligible for parole or set sentencing expiration dates. The Nevada Department of Corrections (NDOC) tracks "good time" and other credits for inmates in state facilities, as well as determining parole eligibility and release dates.10
To illustrate just how many people are on probation and parole, the following image shows the combined total of probationers and parolees in Nevada, along with their ethnicities. Furthermore, these totals are also compared to the number of individuals on community supervision (including probation and parole) in other states across the United States.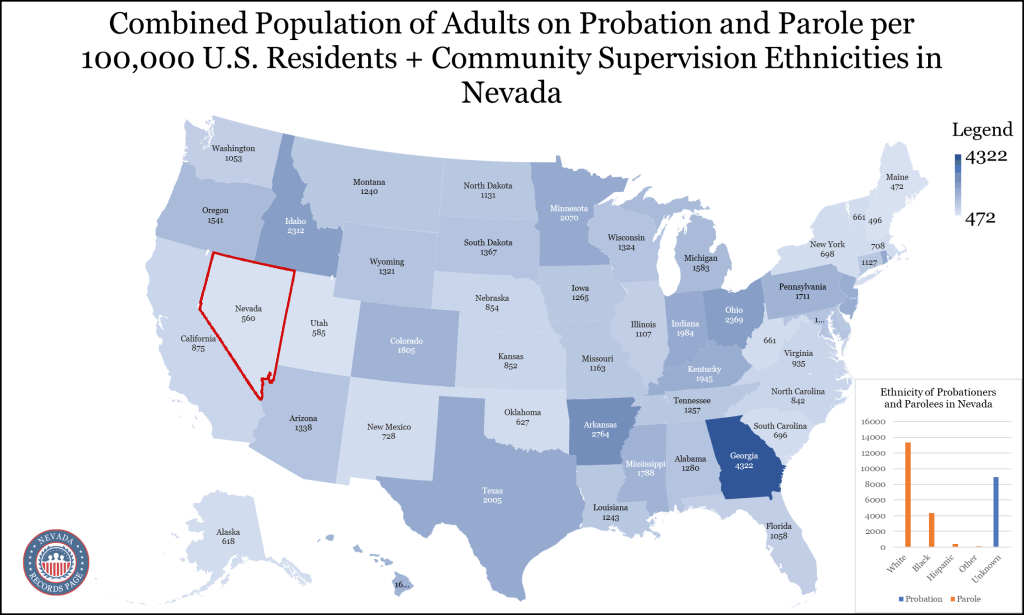 Though the NDOC does not offer a publicly available parolee database, searchers can utilize the NDOC Offender Search Tool to find a certain inmate by name or offender ID and–if available–the subject's parole hearing date and location will be viewable.11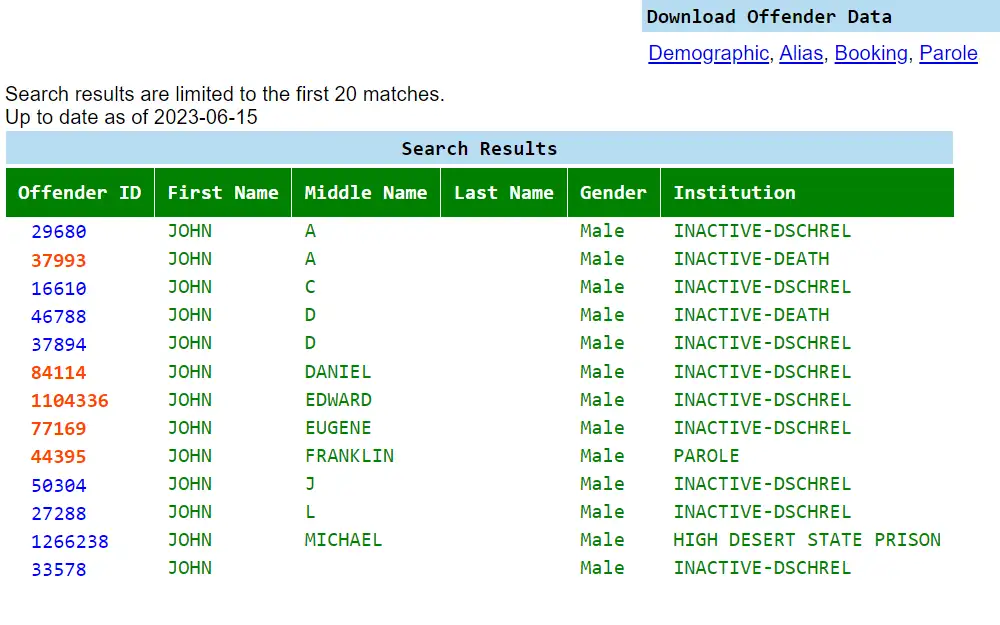 Probation details, on the other hand, cannot be accessed through any online probation search and release dates and information are not usually included in a jail's online directory. Therefore, interested parties should contact the relevant jail directly to ask about an inmate's probation information.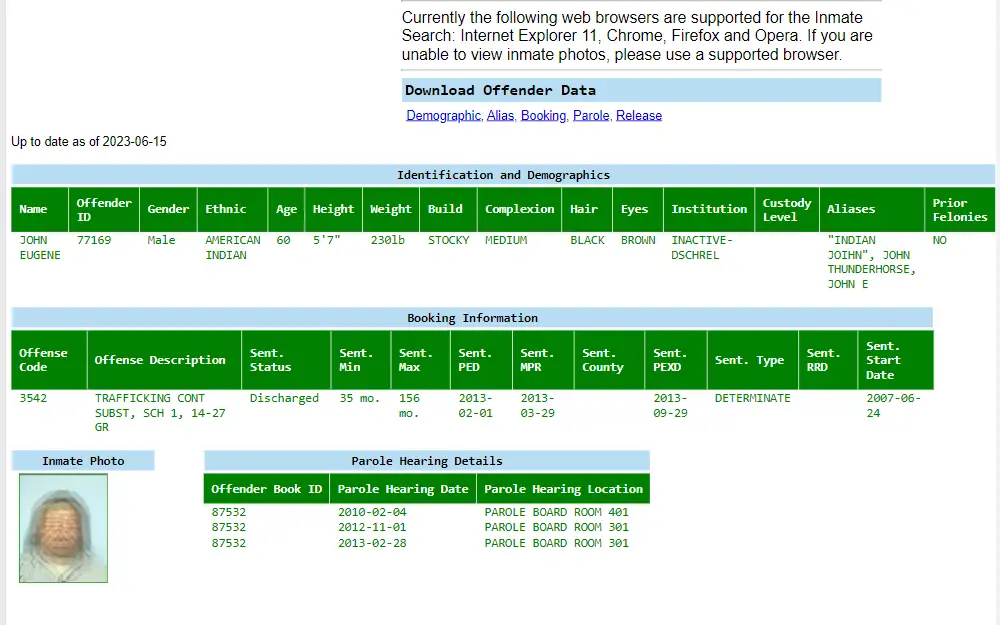 Contacting probation or parole offices can also provide more information and further guidance.
How To Seal or Expunge a Criminal Record in the State of Nevada
A majority of states offer processes for certain criminal records to be sealed or expunged, but Nevada differs in that it is one of just 8 states that does not offer expungements (full erasure of criminal records).
Sealing is an option, however, and withdraws a record from public access. Once a record has been sealed, it can only be accessed by repository employees for record keeping purposes, an authorized search agency, or a party authorized under court order.
Most juvenile records are automatically sealed once the individual reaches age 21. However, juvenile charges involving rape, battery with intent to rape, lewdness with a child, and other violent felonies will not be auto-sealed and the offender must wait to petition the court for sealing of these records upon reaching age 30.
Adults can apply to have Nevada criminal records sealed as long as their sentences have been fulfilled. While many offenses are eligible for sealing, the following are not:
Convictions for death or bodily harm caused by driving under the influence (car or watercraft)
Crimes against children
Felony convictions for driving personal or commercial vehicles under the influence
Sex crimes
A waiting period applies for sealing of eligible criminal records, but the waiting period varies depending upon the crime a subject was convicted of. Specific waiting periods can be found under Information on Sealing Nevada Criminal History Records. Records of sex crimes are not eligible to be sealed.12
Once an individual has ensured that their wait period and all conditions have been fulfilled, they can apply to have their record sealed by following these steps:
Obtain a copy of their criminal history record by completing the RCCD's Criminal History Request Form (DPS–006)6

Have fingerprints taken on an official fingerprinting card at the local police or sheriff's department or any authorized Fingerprinting Sites7
Send Form DPS–006, the fingerprint card, and the $27 fee (by check or money order) to the Records, Communications and Compliance Division

Inquire with the District Attorney's Office of the arresting county to find out how to petition the court for record sealing (petition processes vary by court or county)
When the judge has signed the court order, the applicant should submit all documentation to the Records Bureau and any other agencies involved in the arrest
Note: Applicants do not need to send documentation or correspondence to the Federal Bureau of Investigation (FBI) as the RCCD will do so on the applicant's behalf.
The process of sealing a criminal record can take up to 6 months depending on accuracy of information included in the court order.
How To Find Prisoners in Federal Prison or Nevada State Prisons
To find an inmate in state prisons in Nevada, searchers can use the online NDOC inmate search tool provided by the Nevada Department of Corrections, as the NDOC manages all state facilities. Inmates can be found by their NDOC offender ID or by name.11, 10
The NDOC operates 9 conservation camps, 7 correctional facilities, and 2 transitional housing centers. While the correctional facilities are more traditional, the conservation camps–run by both the NDOC and the Nevada Division of Forestry (NDF)–train inmates for wildfire suppression, forestry conservation, and community assistance projects.
The two transitional housing centers run by the NDOC allow non-violent, non-sex offender inmates with less than a year left of their prison sentence or parole time to find employment, contribute to the community, and prepare for release. Through employment, these offenders can also begin paying court ordered fines and restitution.
Though there are no longer any federal prisons located within Nevada, federal inmates are transferred to federal correctional facilities in neighboring states and can be found through the Federal Bureau of Prisons' BOP inmate locator.13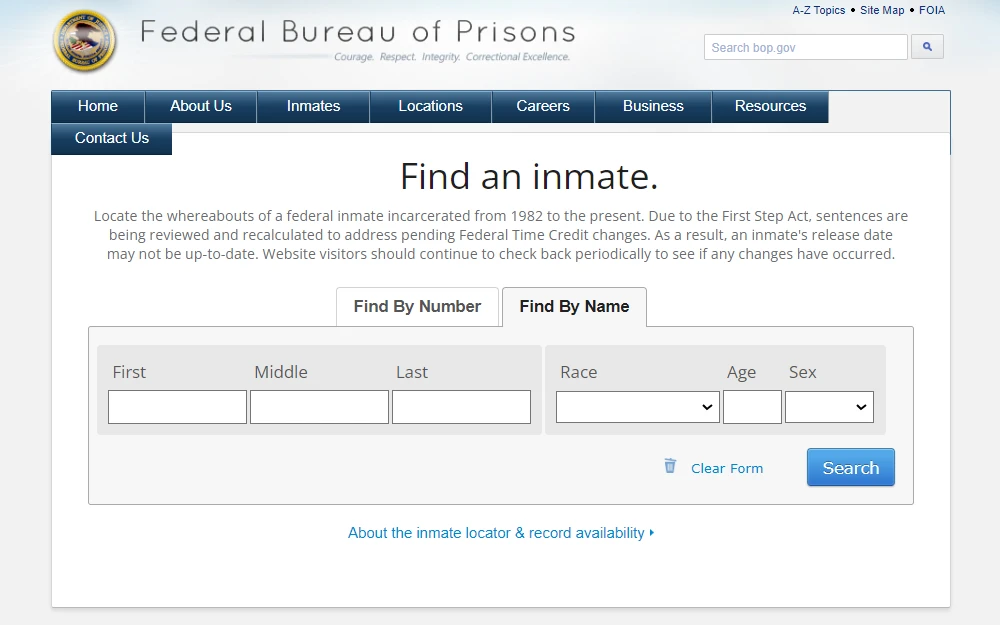 Searches can be conducted by inputting an offender's name or BOP number.
Nevada federal inmates held in other states can also be found through the Public Access to Court Electronic Records (PACER) online search service.14 Though completing searches can be done free of charge, PACER does charge a small fee of $0.10 per page unless the total accrued cost per quarter is below $30, in which case the fees are waived.
How To Perform a Nevada Arrest Warrant Search
Individuals wondering if they or someone else has a warrant out for their arrest should visit or contact local law enforcement or courthouses for current information. The clerk of courts can also provide confirmation or denial of outstanding warrants to interested parties.
Though many cities and counties in Nevada do not have any sort of online warrant list or database, some larger cities do. Each city and county differs slightly, so agencies should be contacted directly for inquiries. For example, Reno does not have any online warrant search but the City of Las Vegas does offer an online warrant lookup for convenience.15
Additional warrant information for both Las Vegas and Clark County can be found here.
For federal warrants, the United States Marshals host data on their WIN system but this is not accessible by members of the public. Instead, third party people finder sites could be utilized for assistance in checking for any active warrants.
Nevada Background Checks: Explained
Background checks have a wide range of purposes, from employment and residency to licensing and purchasing of firearms. Adoption applications, security clearance, and certain jobs–especially those involving working with children or the elderly–also require professional background checks.
Alternatively, personal background checks can be obtained as well. Background checks used for personal reasons do not require consent from the subject of the check or any stated purpose from the requester. These can be obtained through third party services which can provide prompt results and save the searcher the monotony of checking with several record custodians.
As for professional background checks, these can be conducted through two methods.
Level 1 background checks are name-based searches that usually show information on the subject's criminal and employment history, but are not guaranteed to be accurate as they do not require fingerprinting.
Level 2 background checks are much more comprehensive and give greater detail into one's personal history at the national level; such checks include information on the subject's residency such as previous addresses, marital status, professional certifications, as well as their personal, criminal, employment, educational, and credit history.
Professional background checks cannot be performed via the RCCD without the subject's written consent, as only convictions will be shown instead of a full criminal history. However, certain authorized employers can opt to perform a Civil Name Check (CNC) through the RCCD instead of a full background check, as this bypasses fingerprinting for efficiency and allows for timely responses based on names or numerical identifiers.16
The Department of Health and Human Services Nevada Division of Public and Behavioral Health (DPBH) necessitates particular facilities and agencies to perform background checks on every new employee within 10 days of hiring. The complete list of agencies required to perform these checks through Nevada's Automated Background Check System (NABS) can be found under the Background Check Requirements FAQ page of the DPBH website.17
Professional background checks must adhere to all state and federal laws, including using information lawfully, obtaining written consent from the subject before fingerprinting. Requesters must also maintain compliance with the Fair Credit Reporting Act (FCRA) set forth by the Federal Trade Commission and the guidelines set by the Equal Employment Opportunity Commission (EEOC).18, 19
The Nevada Equal Rights Commission (NERC) is charged with investigating employment discrimination complaints regarding:20
Failure to Hire
Harassment
Promotion
Retaliation
Sexual Harassment
Unfair Treatment
Wrongful Discharge
Individuals who believe they have been discriminated against in the workplace can submit an Employment Discrimination Form and file it for free by mail, online, or in person at a NERC office.21
Equal Rights Commission Las Vegas
1820 East Sahara Avenue
Suite 314 Las Vegas, NV 89104
Phone (702)486-7161
Fax (702)486-7054
Equal Rights Commission Northern Nevada
1325 Corporate Blvd.
Room 115 Reno, NV 89502
Phone (775)823-6690
Fax (775)688-1292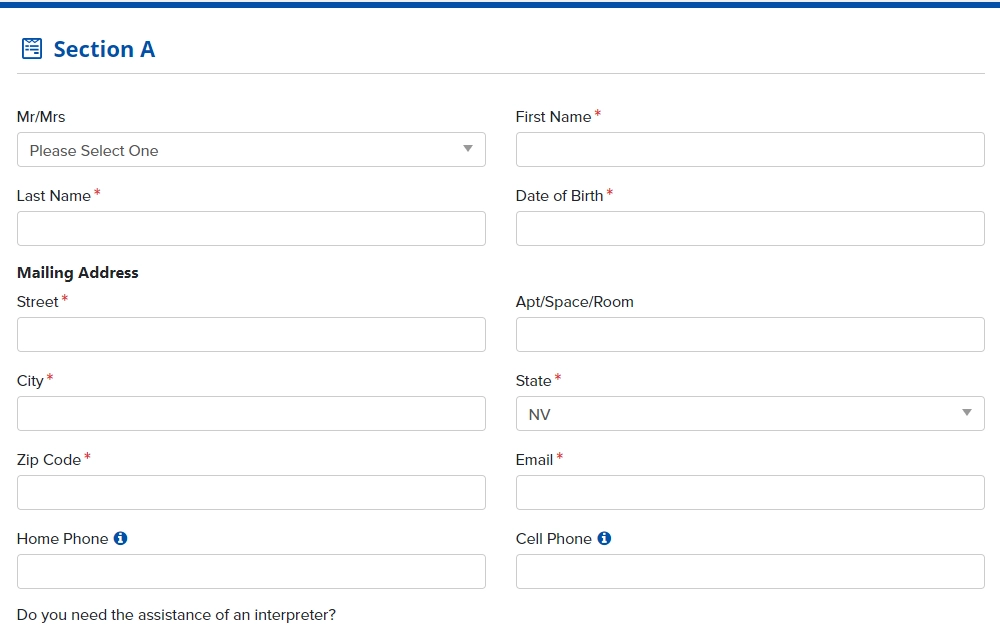 These offices also handle housing and public accommodation discrimination complaints, which can be made by completing and submitting a Housing Discrimination Complaint Form or Public Accommodation Discrimination Complaint Form.22, 23
How To Search & Navigate the Nevada Sex Offender Registry to Find Sexual Predators
To find registered sex offenders throughout the state, concerned parties can use the online Nevada Sex Offender Search.24 Users may enter search criteria pertaining to the offender's name, vehicle, or geographical location. Name searches require the first two letters of the subject's first and last name.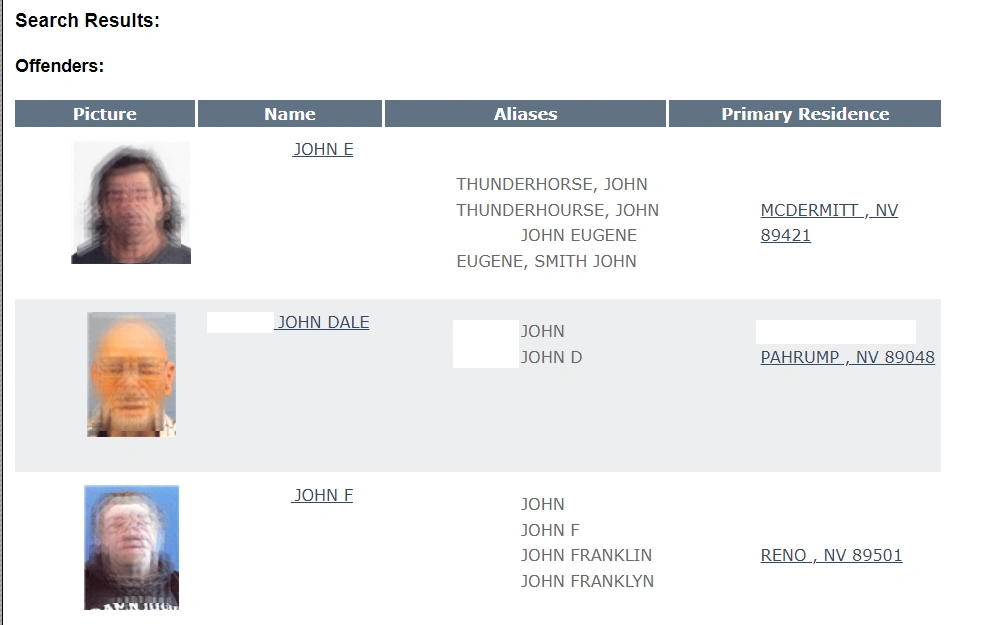 After performing a search of registered sex offenders, users can click on any result to view offender profiles. These will include:
Offender's Full Name
Known Aliases
Tier Level
Gender
Race/Ethnicity
Date of Birth
Primary Address
Physical Description
Offense details will also be shown at the bottom of the screen, with the offender's conviction date and description, name of the court involved, location of the offense, and the name of the institution where the sex offender is currently being held.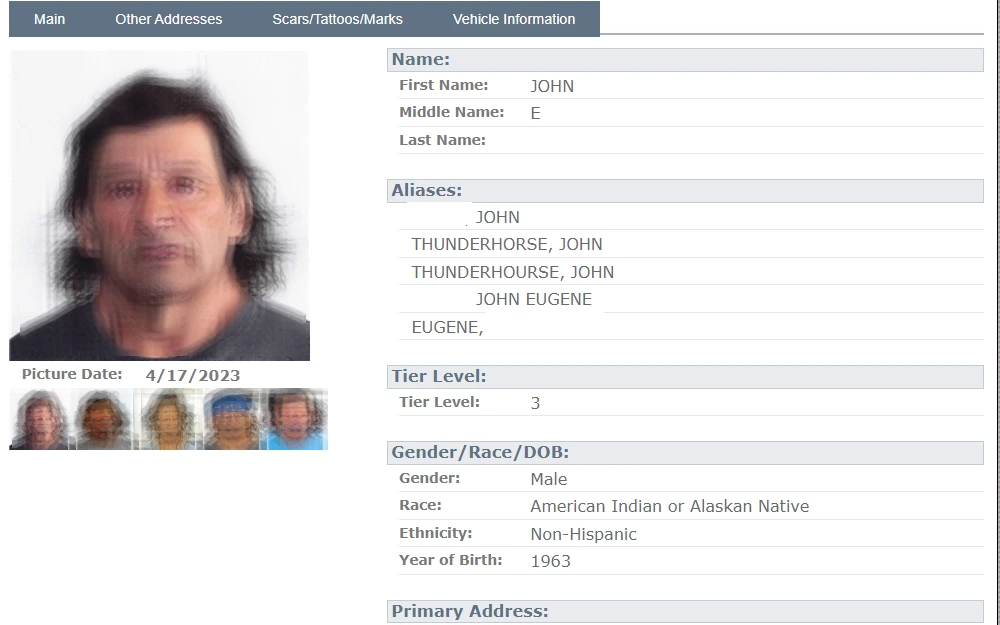 The United States also has a National Sex Offender Registry which can return a much broader scope of search results than the statewide registry.25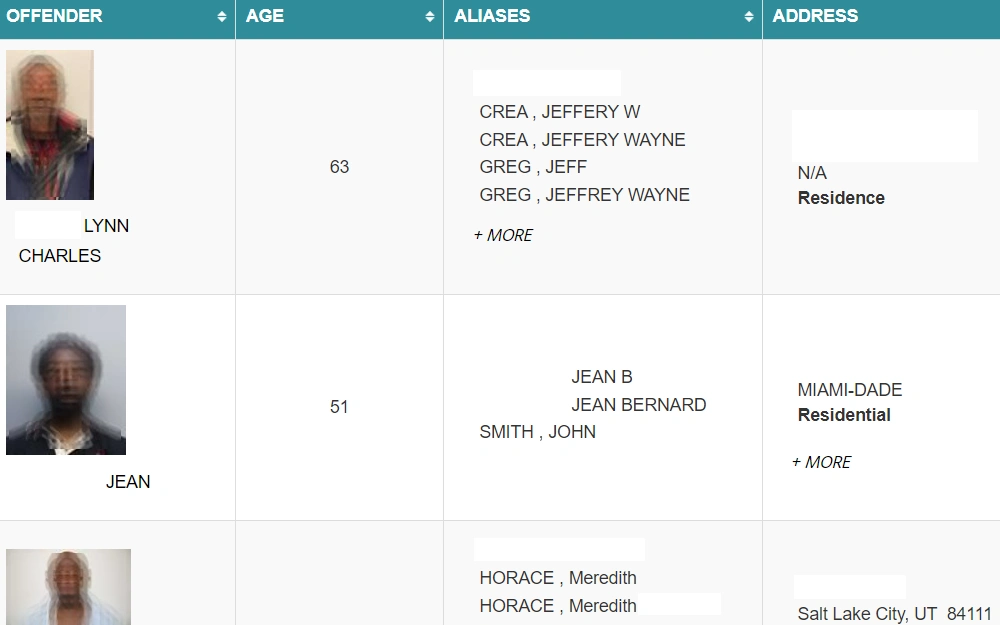 The National Sex Offender Public Website (NSOPW) can be searched by name or location, including a set radius.
Nevada's Laws on Criminal Records, Arrest Records & Discrimination
Certain laws and statutes must be followed when requesting, viewing, or obtaining Nevada arrest records and criminal records.
Nevada's laws regarding freedom of information include the Nevada Public Records Act–codified in Nevada Revised Statutes Chapter 239–which grants members of the public access to governmental records deemed public, without stating a purpose or reason.1
Federal laws regarding public records such as the Fair Credit Reporting Act (FCRA) and the laws enforced by the Equal Employment Opportunity Commission (EEOC) must also be adhered to, especially when performing professional background checks.18, 19 Furthermore, the Nevada Equal Rights Commission also ensures employee and resident protection from discrimination on the state level.20
Nevada's Ban the Box Law (Assembly Bill 384) states that a job applicant's criminal history may not be taken into account or inquired about until after the applicant's final in-person interview.26
Lastly, Nevada's laws pertaining to sealing of criminal records include Nevada Revised Statute 179.295 which declares that sealed records may not be viewed except by authorized entities or under court order, and Nevada Revised Statute 179.301.
This statute allows certain employers, agencies, and businesses (including employees of the Central Repository for Nevada Records of Criminal History, the Division of Insurance of the Department of Business and Industry, and the State Board of Pardons Commissioners) to view sealed records only under specific circumstances–such as application for a pardon, licensing, or after certain violations.27, 28
Some of these laws are more lax for individuals seeking records for their own purposes, such as personal background checks, but entities conducting background checks for employment, licensing, or other professional purposes must adhere to all local, state, and federal laws.
Nevada arrest records show information on a specific incident and can be obtained by contacting a local county courthouse, jail, or sheriff's department. Nevada criminal records are much more in depth, show criminal history and convictions on a national level, and can be accessed through the Nevada State Police Records, Communications and Compliance Division (RCCD).
Frequently Asked Questions
Does the State of Nevada Allow Records to Be Sealed or Expunged?
Though Nevada does not participate in criminal record expungement like most other states do, these records can be sealed from public view and accessibility instead. Most juvenile records are automatically expunged when the offender reaches the age of 21, but ineligible juvenile records and all adult records must be petitioned for sealing.
Does Nevada Have a Drug Registry Accessible by the Public?
Nevada does not have a statewide drug registry open to the public. Instead, licensed prescribers, dispensers, and pharmacists have access to the Nevada Prescription Drug Monitoring Program (NV PMP); this is a database for practitioners to view patients' controlled substance medication history and aids in their decision-making for what–if anything–to prescribe individuals.
How Do I Know if I Have Been Charged With a Crime in Nevada?
If an individual has been charged with a crime in the state of Nevada, a warrant may be put out for their arrest but the only way to be sure is to check one's criminal record through court records, Nevada State Police, local police departments or county sheriff's offices.
1Nevada State Legislature. (2019). CHAPTER 239 – PUBLIC RECORDS [Nevada Public Records Act]. Nevada. Retrieved April 25, 2023 <https://www.leg.state.nv.us/nrs/nrs-239.html>
2Las Vegas Nevada Government. (2022). Detention Services. lasvegasnevada.gov. Retrieved April 26, 2023 <https://www.lasvegasnevada.gov/Government/Departments/Public-Safety/Detention-Services>
3Las Vegas Nevada Government. (2022). Inmate Search & Information. lasvegasnevada.gov. Retrieved April 26, 2023 <https://www.lasvegasnevada.gov/Government/Departments/Public-Safety/Detention-Services>
4Securus Technologies. (2023). Securus. Retrieved April 26, 2023 <https://securustech.net>
5Nevada State Police. (2021). Nevada State Police Records, Communications and Compliance Division. NV.gov. Retrieved April 25, 2023 <https://rccd.nv.gov/Contact/contact/>
6Nevada State Police. (2021, October). To Obtain a Copy of Nevada Criminal History Records (DPS-006) [Web]. Records, Communications & Compliance Division. Retrieved April 25, 2023 <https://rccd.nv.gov/uploadedFiles/gsdnvgov/content/Home/Features/DPS-006__Request%20for%20Nevada%20Criminal%20History__0000RCCD-006-102021rev(16%20Mar%2023).pdf>
7Records, Communications & Compliance Division NSP. (2017, July). Fingerprint Sites. Nevada.gov. Retrieved April 26, 2023 <https://rccd.nv.gov/uploadedFiles/gsdnvgov/content/FeesForms/Fingerprint_Information_and_Forms/Fingerprint%20Sites__GOVERNMENT.pdf>
8Nevada Board of Parole Commissioners. (2021). Nevada Board of Parole Commissioners. Nevada.gov. Retrieved April 27, 2023 <https://parole.nv.gov>
9Nevada State Police Parole and Probation. (2021). Nevada Parole and Probation. Nevada.gov. Retrieved April 27, 2023 <http://npp.dps.nv.gov>
10State of Nevada Department of Corrections. (2021). Nevada Department of Corrections. Nevada.gov. Retrieved April 27, 2023 <https://doc.nv.gov>
11Nevada Department of Corrections. (2021). NDOC Inmate Search. Nevada.gov. Retrieved April 27, 2023 <https://ofdsearch.doc.nv.gov/form.php>
12Nevada State Police Records, Communications and Compliance Division. (2021). Information on the Sealing of Nevada Criminal History Records. Nevada.gov. Retrieved April 27, 2023 <https://rccd.nv.gov/FeesForms/Criminal/Sealing_NV_Criminal_History_Records/#:~:text=Procedures%20for%20Sealing%20Nevada%20Criminal%20History%20Records&text=To%20petition%20a%20court%20to,your%20Nevada%20criminal%20history%20record>
13Federal Bureau of Prisons. (2023). BOP inmate locator. bop.gov. Retrieved April 27, 2023 <https://www.bop.gov/inmateloc/>
14PACER. (2023). Public Access to Court Electronic Records. U.S. Courts. Retrieved April 25, 2023 <https://pacer.uscourts.gov>
15City of Las Vegas. (2023). City of Las Vegas Marshal – Warrant Search. lasvegasnevada.gov. Retrieved April 27, 2023 <https://secure3.lasvegasnevada.gov/ewarrantlookup/>
16Nevada State Police Records, Communications and Compliance Division. (2021). Civil Name Check (CNC). Nevada.gov. Retrieved April 27, 2023 <https://rccd.nv.gov/Services/Civil_Name_Check/>
17Department of Health and Human Services Nevada Division of Public and Behavioral Health (DPBH). (2021). Background Check Requirements Frequently Asked Questions. Nevada.gov. Retrieved April 27, 2023 <https://dpbh.nv.gov/Reg/HealthFacilities/Background_Check_Requirements/>
18Federal Trade Commission. (2022, August). Fair Credit Reporting Act. ftc.gov. Retrieved April 25, 2023 <https://www.ftc.gov/legal-library/browse/statutes/fair-credit-reporting-act>
19Equal Employment Opportunity Commission. (2023). U.S. Equal Employment Opportunity Commission. EEOC. Retrieved April 26, 2023 <https://www.eeoc.gov>
20Nevada Department of Employment, Training & Rehabilitation. (2023). Nevada Equal Rights Commission (NERC). Nevada.gov. Retrieved April 25, 2023 <https://detr.nv.gov/NERC>
21Nevada Department of Employment, Training & Rehabilitation. (2023). Employment Discrimination Form. Nevada.gov. Retrieved April 25, 2023 <https://detr.nv.gov/nerc/forms/DiscriminationIntakeForm>
22Nevada Department of Employment, Training & Rehabilitation. (2023). Housing Discrimination Complaint Form. Nevada.gov. Retrieved April 25, 2023 <https://detr.nv.gov/nerc/forms/HDComplaintForm>
23Nevada Department of Employment, Training & Rehabilitation. (2023). Public Accommodation Discrimination Complaint Form. Nevada.gov. Retrieved April 25, 2023 <https://detr.nv.gov/nerc/forms/padcomplaintform>
24Nevada Department of Public Safety. (2023). Nevada Sex Offender Public Website. Nevada Sex Offender Registry. Retrieved April 25, 2023 <https://sexoffenders.nv.gov/SearchOffender.aspx>
25United States Department of Justice. (2023). National Sex Offender Public Website. NSOPW. Retrieved April 27, 2023 <https://www.nsopw.gov>
26Nevada State Legislature. (2017). AB384 (Ban the Box). Retrieved April 26, 2023 <https://www.leg.state.nv.us/App/NELIS/REL/79th2017/Bill/5421/Text>
27Nevada Revised Statutes. (2019). NRS 179.295. Nevada State Legislature. Retrieved April 27, 2023 <https://www.leg.state.nv.us/NRS/NRS-179.html#NRS179Sec295>
28Nevada Revised Statutes. (2017). NRS 179.301. Nevada State Legislature. Retrieved April 27, 2023 <https://www.leg.state.nv.us/NRS/NRS-179.html#NRS179Sec301>
29The Nevada Department of Public Safety. (n.d.). Retrieved June 16, 2023 <https://sexoffenders.nv.gov/OffenderSearchResults.aspx>
30The Nevada Department of Public Safety. (n.d.). Retrieved June 16, 2023 <https://sexoffenders.nv.gov/OffenderDetails.aspx?Display=Main&Id=WJL3DPr4maS16yfxjprwaw==>
31The National Sex Offender Public Website. (n.d.). Retrieved June 16, 2023 <https://www.nsopw.gov/en/Search/Results>